Chicago Uncubed
April 4th, 2013
FOR
Employers
Looking to meet and recruit some amazing talent for your young, growing company?
Sold Out!
River East Art Center
River East Art Center, 435 E Illinois St., Chicago, IL 60611
2013
Apr 4
1:30pm - 7:00pm
CHICAGO GETS UNCUBED, AGAIN!
Thursday April 4th, 2013
The River East Art Center
435 East Illinois Street Chicago, IL 60611
"CHEERS TO UNCUBED FOR PLANNING A RECRUITING EVENT YOU MIGHT ACTUALLY WANT TO HANG OUT AT."
- TechCrunch
(Solicitors will be removed w/o refund (but with ceremony) - e.g. 3rd party recruiters, advertisers, etc.)
Nobody likes job fairs. That's why Chicago has UNCUBED.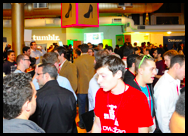 Uncubed is the most exciting recruiting event in the country and this April we're gathering up Chicago's most promising companies and mashing them together with a smart group of attendees (students, grads & experienced talent alike).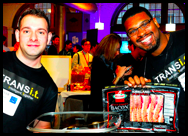 Uncubed is a platform for companies to showcase in a fun and interactive environment, with speakers, music, & games that draw experienced talent out of their cubes and graduates looking for more exciting/rewarding careers.
FEATURING
Great Companies & Speakers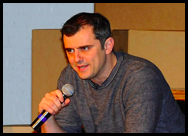 A full day of exploring career opportunities, discovering new products and interacting with influential folks from Chicago's growth sector.
The Live Uncubed Art Show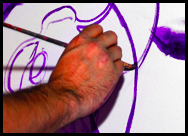 A staple of our events is the intersection of traditional art and digital art with live painting from great local artists.

But which piece will prove most appealing? Stick around to find out...
The Uncubed "2nd Wind"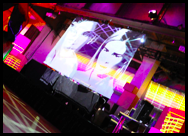 Stick around for the Happy Hour, exclusive for employees of our participating companies, and a handful of candidates who snagged a ticket to mix & mingle...
Snacks & Drinks from Local Brands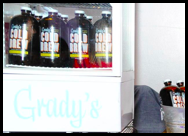 All candidates accepted to attend will also receive complimentary drinks & snacks from amazing local brands, like Grady's Cold Brew Coffee, Reed's Ginger Beer, Pretzel Crisps, Hint Water & local craft beer!
PRESS
Speakers
Paul Lee
Partner, Lightbank

Harper Reed
Former-CTO, Threadless & Obama For America

Brittany Tarvin
FadingRed, Co-founder/CEO

Bill Pescatello
Principal, Lightbank

Michael McGee
Co-Founder, Starter League

Carson Conant
CEO, Mediafly

George Orr
VP of Client Services, kCura

Kris Hammond
CTO, Narrative Science

Desiree Vargas Wrigley
CEO/Co-Founder, GiveForward
1:30PM - 7:00PM
Main Event
2:00PM - 4:30PM
Submissions Accepted for The American Airlines Paper Napkin Pitch [AA Booth]
2:30PM - 3:00PM
Panel: Work To The Future - What It Takes To Succeed In The 21st Century Work Place
Discussion Lead: Guy Cimbalo (Editor, Wakefield)
Paul Lee (Partner, Lightbank)
Harper Reed (Former-CTO Threadless, Obama For America)
2:30PM - 5:15PM
Outlook "Spell Check" Spelling Bee Preliminary Rounds [Every 30 minutes in the Outlook Touch Lounge]
3:15PM - 4:00PM
Panel: Employee 2.0 - How Thinking Like An Entrepreneur Helps You Achieve More
Discussion Lead: Christopher Johnson (Co-Founder, Wakefield)
Michael McGee (Co-Founder, Starter League)
George Orr (VP Client Services, kCura)
Brittany Tarvin (CEO, FadingRed)
4:15PM - 5:00PM
Panel: Electric Locomotive - Storytelling by Founders
Discussion Lead: Tarek Pertew (Co-Founder, Wakefield)
Kris Hammond (CTO, Narrative Science) Carson Conant (CEO, MediaFly)
Desiree Vargas Wrigley (CEO/Co-Founder, GiveForward)
5:15PM - 5:45PM
5 Finalists for The American Airlines Paper Napkin Pitch Announced & Present. Winner Chosen. [Speaker Lounge]
5:45PM - 6:15PM
Outlook "Spell Check" Spelling Bee Finalists Compete [Outlook Touch Lounge]
6:15PM - 6:30PM
The Wakefield Live Art Show Voting [Atrium]
7:00PM - 9:00PM
The 1871 UNCUBED WRAP PARTY [1st Floor]